The OPCHDA.NET Features Include
VB and C# Wizards for quick project creation
Highly optimized .Net wrapper code
BrowseTree class shows the browse result in Forms/WPF TreeView controls
Works in 32-bit and 64-bit operation mode
Full source code available
Visual Basic .NET sample client
VC# .NET sample client
Visual Studio .Net integrated help
Developer license with one time fee, no run-time licenses required
The license includes an Updates/Support subscription for 90 days.
System Requirements
Windows 7, 8.x, 10 or Windows Server 2008, 2012, 2016 32 or 64bit
.NET Framework 4.x
Visual Studio 2010, 2012, 2013, 2015 or 2017, C# or Visual Basic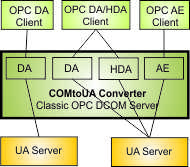 Accessing UA Servers thru a Converter
Existing Classic OPC HDA applications can access OPC UA servers without having to be modified.
The COMtoUA converter server enables OPCHDA.NET based client applications to access UA-HA servers.